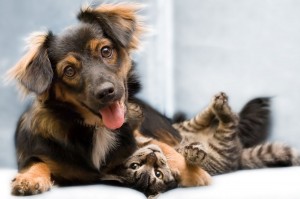 Animal Bioenergetic Healing Session
Benefits of a Bioenergetic Healing session for your animal companion are endless! It can effectively assist your pets with behavioral issues, physical ailments, and clear emotions and traumas rooted in their past experiences.
Just as we feel more content in a well balanced space, our animal companions, who share our needs and desires, want to feel in balance. They feel the emotional and physical stresses, changes and shifts in their environment.
Our animals are so highly intuitive and sensitive to energetic changes that they feel imbalances even more acutely than people. This can, in turn, cause them to feel anxiety and depression which can lead to the same health issues that stress causes in people.
Animals instinctively relax into the sessions and trust the flow of the healing energy. Hence, the sessions tend to be very productive since there is less resistance. After a session, they typically feel calmer and more peaceful, connected and grounded. There is no placebo effect with animals, making the positive changes you see in them even more profound.
You'll find Tammy to be an empathetic, understanding guide to assist you and your pets through difficult emotional situations.
Pricing: 
One-Hour (telephone) Bioenergy Healing Session $100 -150 (sliding scale) Only one animal per session.
Package of Four One-Hour (telephone) Bioenergy Healing Sessions $375 (Must be pre-paid and used by 10 months from first appt.)
Thirty Minute Consultation about your animal(s) $80
*24 Hour Cancellation Required for All Appointments
Pay online here.
Disclaimer: Bioenergetic Healing should never be used as a substitute for medical care and advice. Always consult a Veterinarian for any concerns regarding your animal companions' well-being.
Speaking Engagements & Workshops
(call for pricing)
Tammy Billups is a specialist on the animal-human relationship and has been speaking and facilitating workshops to raise awareness and consciousness about animals' emotional well-being since 2008. She is engaging, compassionate, and has endless examples to share with audiences to help them to better understand their animal companions. Depending on group size, timing and client preference, she is also open to answer animal related questions.
She especially loves speaking to rescue organization volunteer groups and to raise their awareness to a new level of self-care and understanding of the higher purpose of each animals journey. Beyond the Fur book signing events are at no charge. Tammy will donate a percentage of all book sales to a no-kill animal organization.